10 Boozy Wine Slushies That Will Keep You Cool All Summer Long
12 czerwca 2019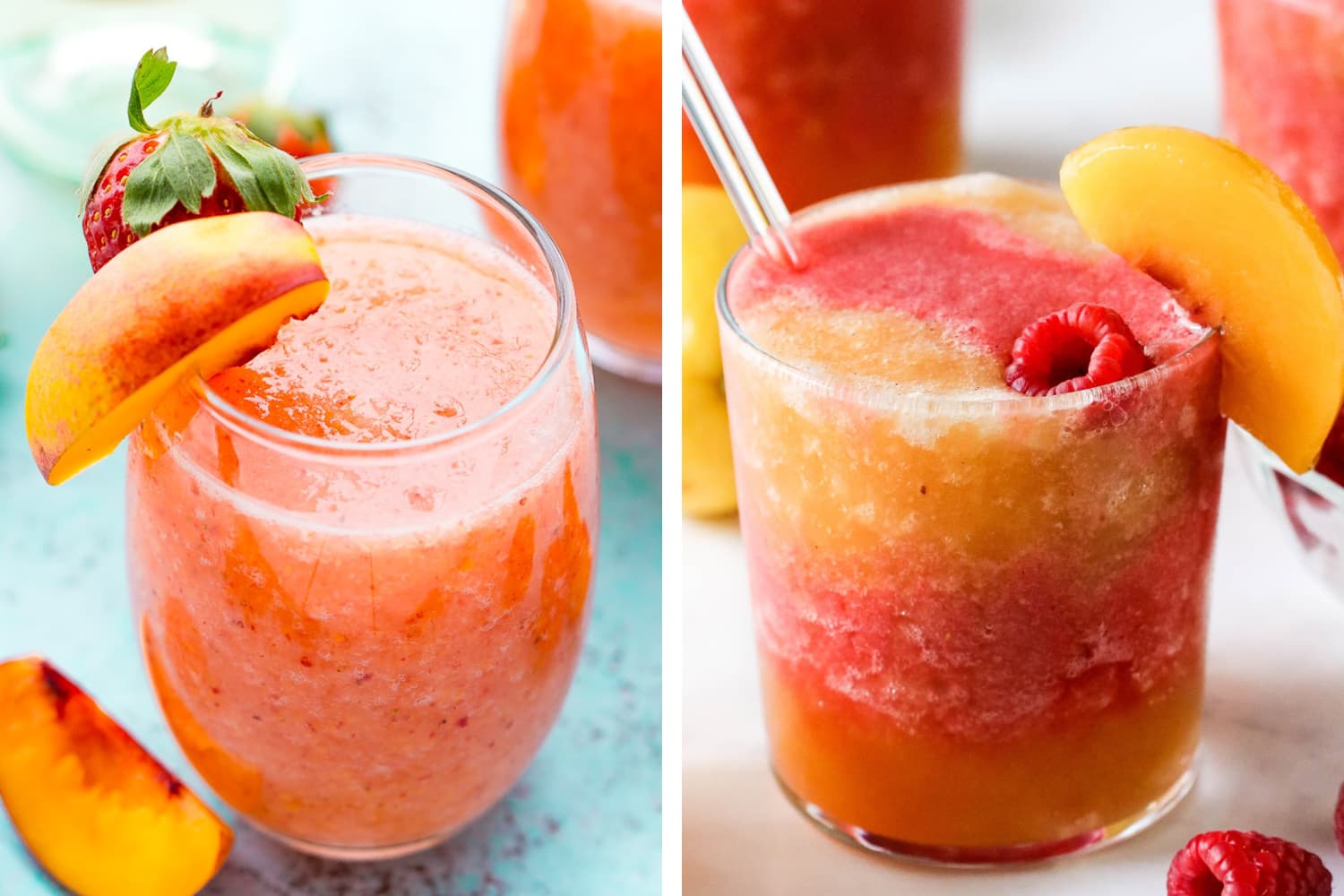 There's only one thing better than a 7/11 Slurpee on a hot summer day, and that's an ice-cold wine slushie. Made fresh in the blender with whatever summer fruit you have on hand plus your favorite bottle of wine and various mix-ins of your choosing, these elevated Slurpees instantly up your happy hour game. Just one sip and you'll feel like you're poolside at a fancy resort.
Not only are wine slushies stunning for all of your #DrinksInTheAir hashtagging purposes this summer, but they're also super tasty and refreshing to boot. Here are 10 wine slushie recipes from a few of our favorite food bloggers. Test them out and report back!
The base formula for this beauty is super simple: frozen rosé, fresh juice, sparkling water, and frozen berries — then blend to perfection. That's it! I already have it committed to memory. Pro tip for those looking to up the ante? Soak fresh raspberries in orange juice and add them into the mix.
Stock up on strawberries at the farmers market so you have an excuse to make these this weekend. You don't even have to dump boatloads of sugar into this slushie to make it sweet. This blogger recommends a bottle of pink Moscato. The wine and strawberries are sweet enough on their own.
Transform whatever cheap bottle of white wine you have on hand into a vacation in a glass. Just add your favorite tropical fruit (think: mango, pineapple, and peaches) to the mix and blend, blend, blend. Garnish with a pineapple, obviously.
This is the ombré wine slushie of my dreams and I just want to stare at it all day long. And also drink it. It also just so happens to be Peach Melba-inspired, a dessert which marries my favorite fruits, peaches and raspberries, with vanilla ice cream. Hold the ice cream and use a touch of vanilla bean paste in the slushie version instead. It adds a complexity that you didn't know you needed.
I love a lemonade stand as much as the next person, but I love lemonade Frosé even more. This fancy sipper even contains rosé simple syrup. Be still my summer heart.
This is one of the simplest wine slushie recipes on the list so if you're just starting out on your slushie journey, give this one a go. You just need frozen berries, a bottle of whatever wine you have, and two cups of ice cubes.
According to the recipe author, you can make these cherry lime slushies "in like two minutes flat." Sign us up.
Usually I'm eating watermelon all summer long, but I'd love to be drinking it too! Pro tip: Freeze your watermelon chunks ahead of time to create a creamier texture. This way, you won't need as much ice (which can water it down).
When you're feeling fancy, make a lavender simple syrup using equal parts water and sugar in a saucepan with a few sprigs of fresh lavender. If you're feeling really really fancy, make a blood orange reduction to swirl in too.
This slushie is what happens when your favorite summer smoothie meets your favorite glass of chilled white wine.
Which of these wine slushies are you trying first?