10 Impossibly Easy Chicken Recipes You Can Probably Make Tonight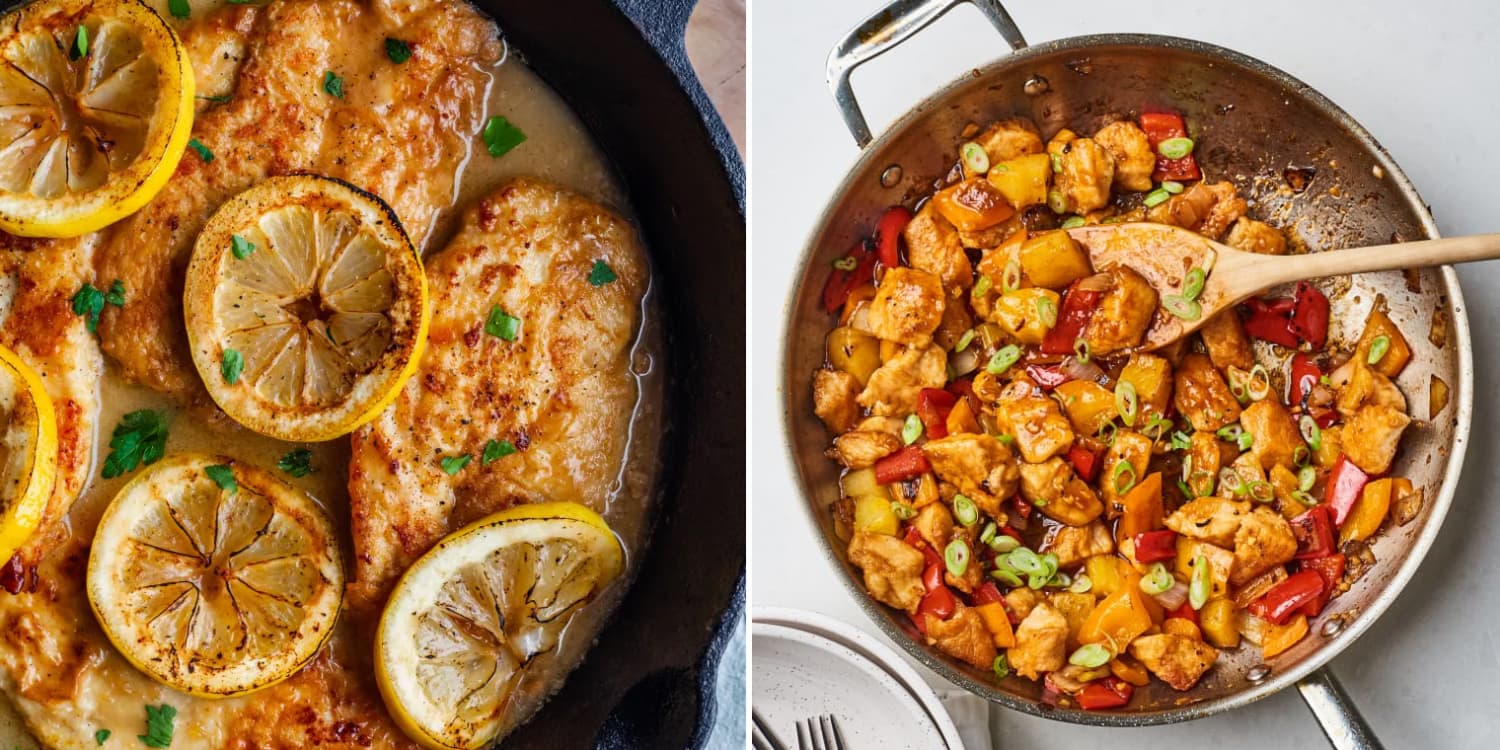 Chicken dinners are the workhorses of weeknight cooking. They're quick, crowd-pleasing, and nutritious. But sometimes you get home, look in the fridge, and just don't want to make your go-to dish for the hundredth time. If you're looking for ideas for some impossibly easy dinner recipes starring chicken (who isn't?), then look no further. These are 10 of the fastest, most fail-proof chicken dinner recipes we've got — and you can likely make at least one with the ingredients you have on hand.
Chicken Francese is all about the savory-tart lemon-butter sauce that makes this chicken incredibly tender and juicy. All you need to complete this meal is some boiled pasta noodles.
This Miracle Meal makes the most of shortcuts but doesn't skimp on flavor. Ground chicken cooks quickly and soaks up any sauce you throw at it.
A complete chicken dinner in 20 minutes? Yes, please. The key to quick cooking here is to cut everything — veggies and chicken — into bite-sized pieces.
Stir-fry is just about the fastest way you can cook chicken, ever. And this sweet and sour sauce might keep you from ever ordering takeout again.
Chicken tenders can be a quick and easy dinner with the right steps. This recipe uses mayo to hold the breading in place and keep things moist.
The secret to this no-fuss chicken bake? Start with a rotisserie chicken. You end up getting all the creamy comfort of chicken Parmesan with almost zero effort.
If it's one of those super busy nights, this 20-minute stir-fry can be made with chicken and almost any vegetable in your crisper drawer.
These super-flavorful wraps make the most of sheet pan cooking and grocery store shortcuts. Pro tip: Get the veggies pre-prepped (and only as much as you need) by hitting up your grocery store's salad bar.
This skillet dish uses ground chicken to make a dinner that tastes just like egg rolls without the hassle of wrapping or frying. And make extra of the creamy sauce — you'll want it for leftover and future dinners.
These chicken enchiladas also take advantage of rotisserie chicken, so they take just 30 minutes from start to finish, but don't miss a beat on flavor and texture. Or you can assemble ahead and refrigerate for a dish that's ready to be cooked as soon as you get home.
Otagowano:
Chicken
Kitchn Recipe Roundup
Quick
Recipes from The Kitchn