10 Smart Ways to Turn Thanksgiving Leftovers into Breakfast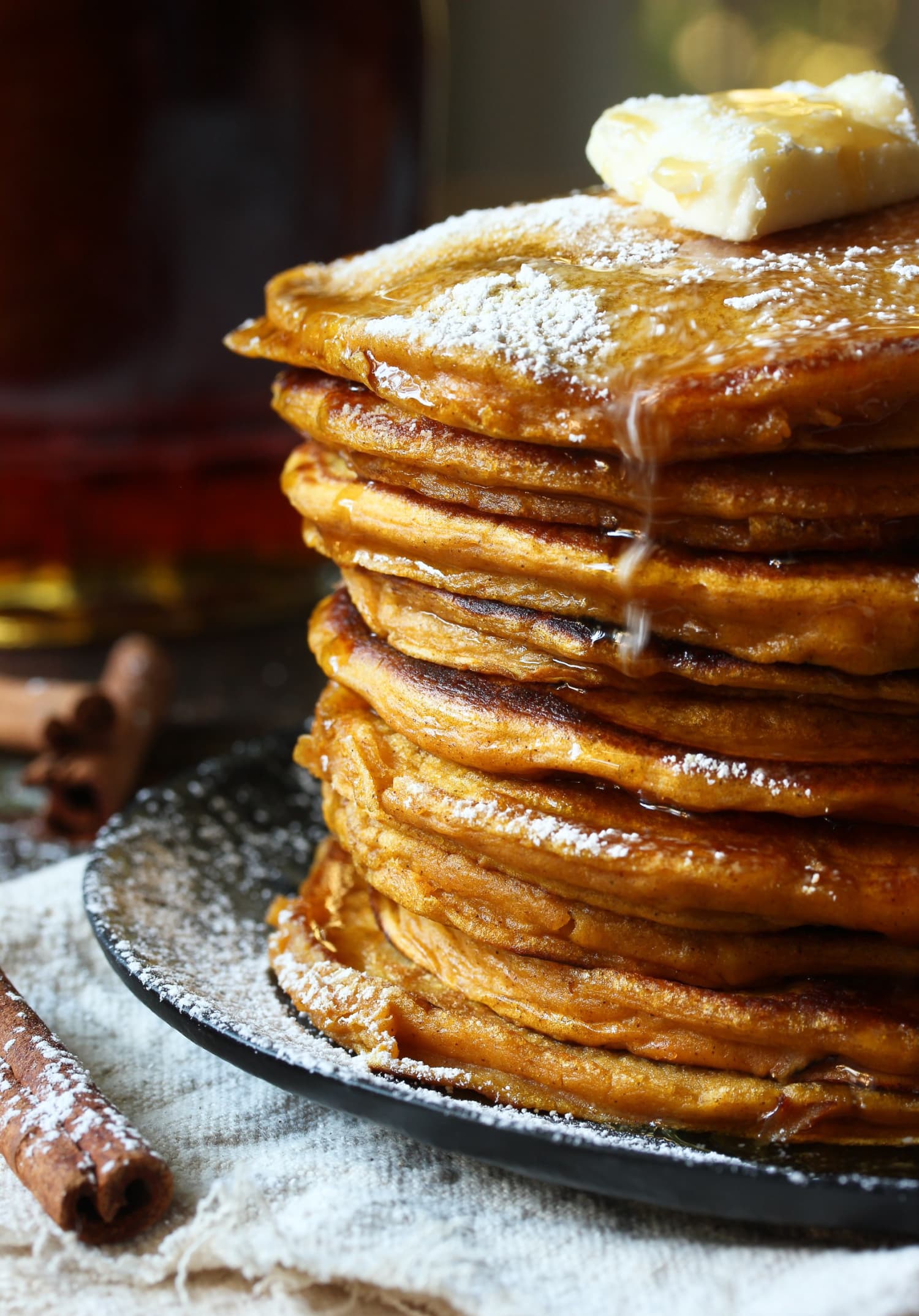 After the Thanksgiving feast, chances are good you've got a fridge full of the real treat: leftovers! While they're easy to enjoy as lunch or dinner (or snacks), we're actually big fans of revamping leftovers into breakfast (think: hearty omelets stuffed with turkey and cheese, or grab-and-go breakfast bars studded with cranberries). From savory to sweet, here are 10 versatile ways to work Thanksgiving leftovers into your morning meal.
1. Scoop leftover pumpkin purée into oatmeal or pancakes.
2. Top day-old stuffing with eggs for an easy breakfast hash.
The fastest way to turn something into breakfast? Crown it with fried eggs. Reheat (and re-crisp!) the stuffing on the stovetop, then use that same pan to fry up a batch of perfectly runny eggs.
Get the recipe: Bread, Sausage, and Apple Hash
3. Or make a hash using leftover greens as the base.
We also love eggs over leftover Brussels sprouts and bacon — especially in this version, which cooks everything on a sheet pan for maximum ease.
Get the recipe: Sheet Pan Brussels Sprouts, Eggs, and Bacon from Damn Delicious
4. Swirl cranberry sauce into Greek yogurt for quick parfaits.
If you're looking for a lighter day-after-Thanksgiving option, these refreshing and slightly tart parfaits are ideal. Start with Greek yogurt and cranberry sauce, then toss in granola and chia seeds for more protein and fiber.
Get the recipe: Breakfast Parfaits With Cranberry Sauce from Well Plated
5. Make savory waffles out of mashed potatoes, cheddar, and panko breadcrumbs. 
Who knew mashed potatoes could have such a delicious second life? Just mix everything together with some eggs, milk, and spices, then run it through a waffle maker.
Get the recipe: Cheesy Potato Waffles from Diethood
6. Or turn leftover mash into crispy potato cakes.
If you don't feel like breaking out the waffle-maker, try this slightly more streamlined version. Top with smoked salmon and a poached egg for an extra-savory treat.
Get the recipe: Cheesy Leftover Mashed Potato Cakes from The Endless Meal
7. Shred turkey and tuck it into easy, cheesy omelets.
8. Fold cranberry sauce into oatmeal bars.
These bake up in just about half an hour — and can pull double duty as both breakfast or a grab-and-go snack later in the day.
Get the recipe: Cranberry Oatmeal Bars from Savory Tooth
9. Sneak sweet potatoes into pancakes.
There's a cup of mashed sweet potatoes in the batter, but you can't really taste them outright in the final product. So if you're looking for a more low-key way to use up leftovers — or if you just want to sneak extra veggies into breakfast — try these.
Get the recipe: Sweet Potato Pancakes
10. Make a frittata with turkey and sweet potatoes — or just about anything else.
We've written before about how frittatas are one of our favorite ways to use up any leftover meat or vegetables in our fridge, and that's especially true on the morning after Thanksgiving. Toss in turkey or ham, sweet potatoes, or spinach — and know that you can't go wrong.
Get the recipe: Leftover Turkey and Sweet Potato Frittata from Skinnytaste
Otagowano:
Breakfast
Holidays
Kitchn Recipe Roundup
Thanksgiving