5 of the Best Dog Treats at Trader Joe's, According to My Very Discerning Pup
15 maja 2019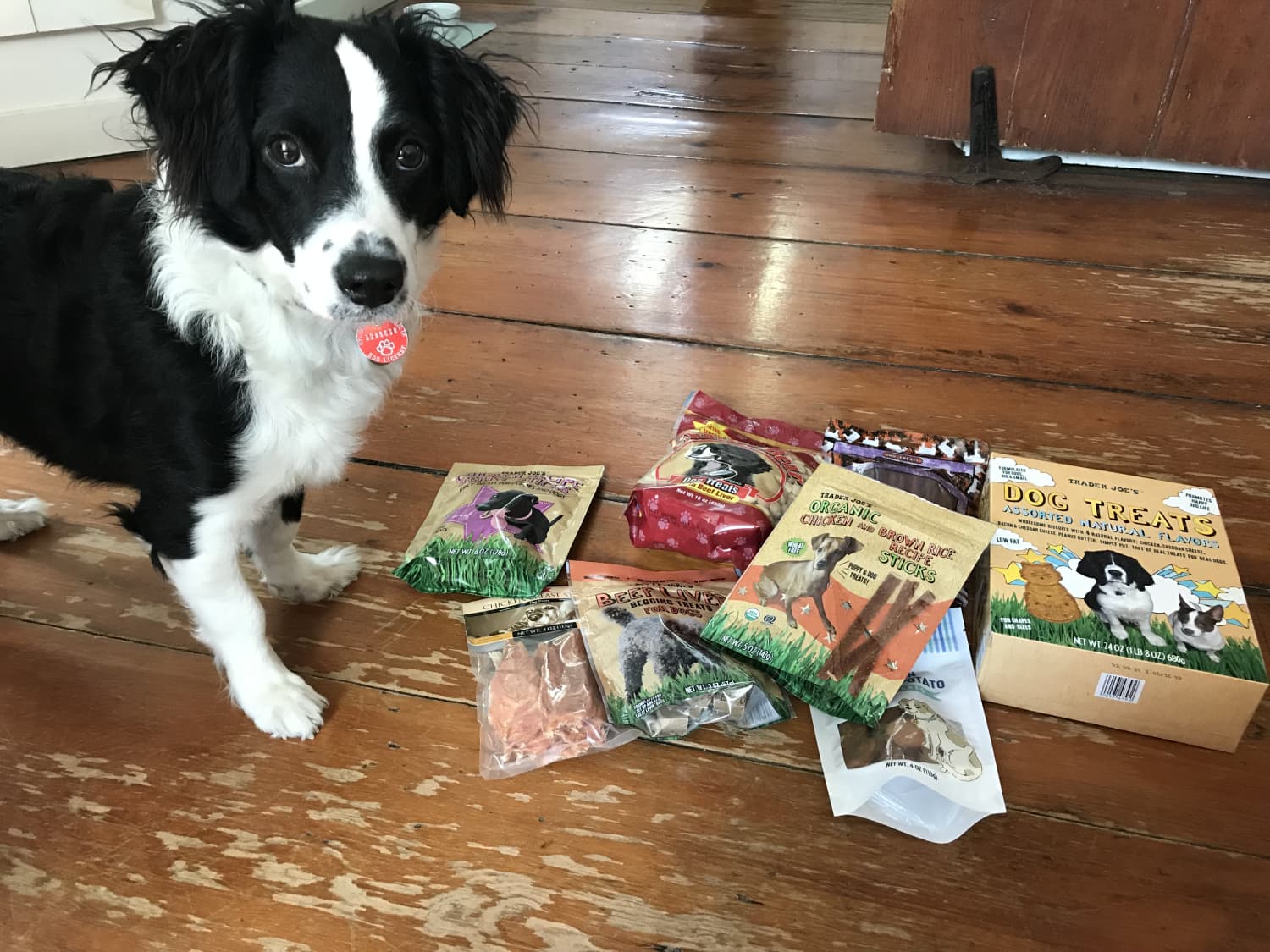 My sweet little pup, Millie, is a lot like me when I was her age — in that she is a super-picky eater. She dislikes carrots, can stealthily remove the apparently less desirable smaller pieces from the larger pieces in her kibble, and literally won't get out of bed for anything that's not a high-value treat. So I figured, who better to taste test the dog treats from Trader Joe's than Millie?
I picked up practically every treat at my local TJ's and used my dog as a guinea pig (guinea pup?) for a very scientific experiment. First, I separated the options into two categories: treats and sticks/jerky (because it's not really fair to compare apples to oranges). I then laid out one of each in the treat category and watched to see which one she went for first, second, and so on. We repeated this test several times throughout the week and her order choice WAS ALWAYS THE SAME! She's nothing if not consistent (AND adorable!). The following week, we did the same test with the sticks and the jerky.
These are the TJ's options she loved the most — and the ones we think your dogs will like, too.
1. Freeze-Dried Beef Liver Begging Treats, $2.69 for two ounces
As soon as we got Millie home, everyone we knew started telling us to find freeze-dried beef liver treats. Dogs go wild for them, we were told. We did get her some from our local pet store and the rumors proved to be true. I figured she'd like these, too, but I didn't guess she'd choose them time and time again when presented with other options. The only ingredient is beef liver and the package says they're to be used for training and treating. Honestly, they're so high-value, I'm saving the rest for only training purposes.
2. Charlee Bear Dog Treats with Beef Liver, $3.29 for 16 ounces
Again with the beef liver. After Millie ate her freeze-dried beef liver, this was always the next one she went for. They look and feel more like oyster crackers but they smell nice and meaty, thanks to beef liver being the second ingredient (wheat flour is the first). They're just three calories each, so they're good for pocketing during training and outings, but you should know that they get crushed rather easily.
3. Salmon & Sweet Potato Dog Treats, $3.99 for four ounces
At first glance, these little disks look like gummy candy for humans. However, they are not. You could eat them, though (and everything else on this list!) if you really wanted to "These smoked salmon treats are made from salmon raised without antibiotics, from the cold waters of northern Scotland. They are combined with sweet potato, and smoked over natural hardwood," the package tells me. They're a little chewy (MAYBE THEY ARE GUMMIES?) so it's quite fun to watch Millie gnaw them up.
4. Chicken Recipe Jerky Sticks, $1.99 for six ounces
I was shocked over how much Millie liked these jerky sticks. I thought, for sure, she'd choose the options with beef over the chicken, but she consistently picked this stick over the other options. She is a timid and slow eater, but she can polish one of these off in just a matter of a few bites. The ingredient list is a little longer than the other treats we tried (chicken, wheat flour, sugar, dextrose, chicken meal, glycerine, salt, dried cultured skim milk, natural smoke flavor, etc.), so I'm going to call these a once-in-a-while treat.
5. Chicken Breast Strips, $3.99 for four ounces
If you took one look at these and thought they were dry, shriveled-up chicken breasts, you'd be correct. The only ingredient is "dried chicken breast filets." Millie loved them and it kept her occupied for a while. My only complaint is that there were only five in a package, but honestly, we've bought other packs of chicken strips and they were similarly sized.
Are there any Trader Joe's dog treats that your pup loves? Tell us about them in the comments below!