6 Ways Costco Is Definitely Better than Amazon
7 maja 2019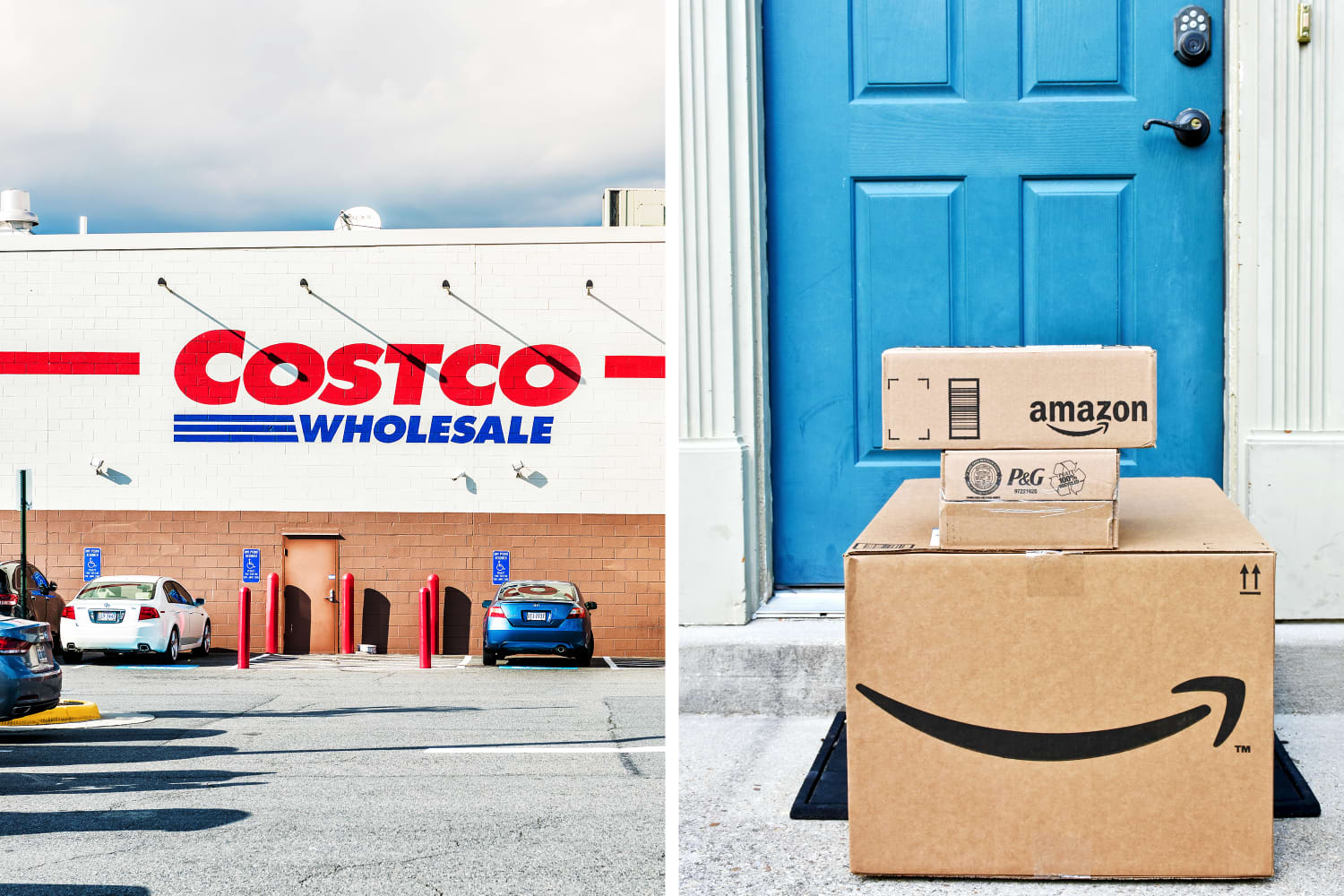 Two of the biggest names in the retail industry, Costco and Amazon, also happen to be my favorite places to shop — and it looks like I'm not alone. The stores couldn't appear more different: One is a big-box, bulk retailer, while the other eschews the brick-and-mortar model, focusing on rapid delivery instead. Both compete for the dollars I spend, but while Amazon can tempt me with Prime's streaming service and free shipping, it'll never replace my Costco membership card. (Yes, both are worth paying for, but that's another story.)
Here are the six ways Costco beats Amazon, hands-down.
1. Costco's private-label brand is always the best.
Costco's house brand, Kirkland Signature, offers products from paper towels to seltzer water to wine. The brains behind the store brand go to great lengths to make their products as good as (and often times better than) the name brands they stock. Amazon is also in the private-label game with AmazonBasics and numerous Prime Pantry brands, but the offerings are limited and don't have the legacy of high-quality Kirkland Signature products.
2. Returns can be done in one simple step.
Making returns to Amazon can be a pain. Despite offering free returns on some (but not all!) items, it is still a multi-step process. Step one: Print the label. But not before you first refill the printer with ink and paper. Then print then label. And track down a box of a suitable size, and close it with the final few inches of packing tape left on the roll. After that, drive around town with the box in the back seat for two weeks before dropping the package at an Amazon Locker or UPS store. Sure, the mail carrier can technically pick up the box, but you might not have a secure spot to leave large packages waiting.
On the other hand, Costco is famous for their generous return policy, offering full refunds on almost any item, no questions asked. Plus, you can return Costco.com purchases in stores for a refund that includes any shipping and handling fees.
3. The deals are good — and constant.
Online shoppers know that Amazon's prices are unpredictable and can change in an instant. With a Costco membership, you know that you're getting a good deal no matter the day you shop. From everyday essentials like vitamins and baby diapers to high-ticket items like TVs and pro-level blenders, Costco's low prices are available every day without the hassle of chasing the lightning deals or finding coupon codes.
4. There are plenty of worthwhile impulse buys to be found.
Yes, sometimes we stick to our lists and avoid impulse buys. But other times inspiration in the aisles is what we seek. While Amazon does its best to show us the products it thinks we want, it can often feel like shopping in an echo chamber. Costco is always adding new, carefully curated products, including everything bagel spice in restaurant-sized containers, fresh street taco kits, and deals on name-brand rain boots (that you didn't know you needed but are totally useful!).
Is any list about Costco complete without mentioning their free samples? Costco wins points over Amazon (and basically every other retailer), thanks to those little cups at the sample stations scattered throughout the store. I feel confident in purchasing new products (especially in such large quantities) when I can try before I buy.
6. There are some super-special Instagram accounts that add to the Costco hype.
The thing that keeps me excited about shopping Costco are Instagram accounts like @Costco_doesitagain and @costcodeals. Scroll to see photos (and prices!) of new products and favorite finds straight from the warehouse shelves. For the former account, followers tag their Costco haul with #costcodoesitagain, and the nosey shopper in me can't help but look. The comments are Costco's (unofficial) answer to Amazon reviews and star ratings. Yes, many Amazon departments have their own official Insta accounts, but I have yet to find a grassroots account as passionate those built for Costco.
Plus, there's the rotisserie chicken and food court. Got any other reasons to add to this list? Leave your thoughts in the comments below!
We independently select these products—if you buy from one of our links, we may earn a commission.