7 Fresh and Filling Drop Dinners That Make Themselves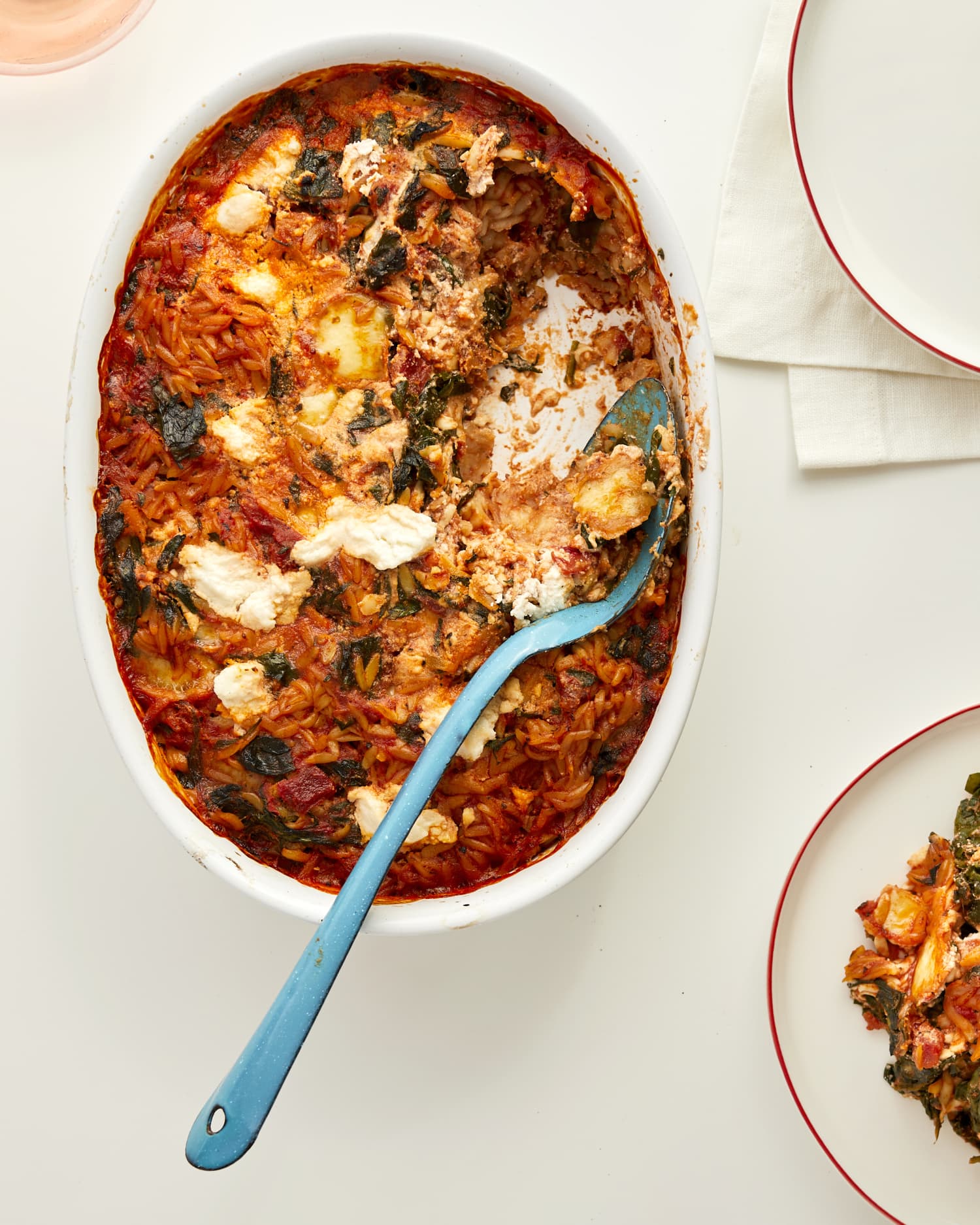 On the busiest nights, a meal that's as hands-off as possible always wins. Drop dinners are just that: Drop a few ingredients in a pot, skillet, or on a sheet pan and eschew any heavy lifting on your part. Skip the stirring, sautéing, and sometimes even chopping. These seven recipes are about as easy as it gets and are sure to save your weeknights.
This pasta casserole just might be the ultimate drop dinner. Dump dry orzo pasta, a jar of marinara sauce, a couple of creamy cheeses, and a whole bag of baby spinach into a baking dish and in 40 minutes you've got a comforting, vegetable-filled pasta dinner.
Here's a secret: You don't actually have to boil gnocchi. Instead, toss it on a sheet pan with a mix of colorful veggies, and you have one of the easiest, most surprising dinners around.
You do have to sauté an onion for this recipe, but it's worth the little effort. Everything else — the chicken, rice, peas, and cheese — is dropped in and cooked all together.
Keep a bag of frozen dumplings in your freezer and you'll always be able to whip up this simple soup. To make it truly a drop dinner, reach for pre-sliced mushrooms.
This homey chicken and rice bake tastes bright, thanks to the inclusion of fresh tomatoes and basil. You'll pour a lot of chicken broth into the casserole dish, but don't worry — the rice will absorb it all and become perfectly tender.
Ravioli is so quick-cooking that it can go straight from the freezer into the baking dish with some broth and aromatics to cook up into this lemony casserole.
Here's another no-boil pasta bake that's ingenious. Choose whichever type of milk you prefer, but know that the more fat that's in it, the richer and creamier the casserole will be.
Otagowano:
casserole
Dinner
Easy
Kitchn Recipe Roundup
Main Dish
One-Dish Meal
Pasta
Recipe Roundup
Recipes from The Kitchn
Rice & Grains