Everything You Crave Is Packed into This Spicy, Saucy Veggie Bowl
11 kwietnia 2019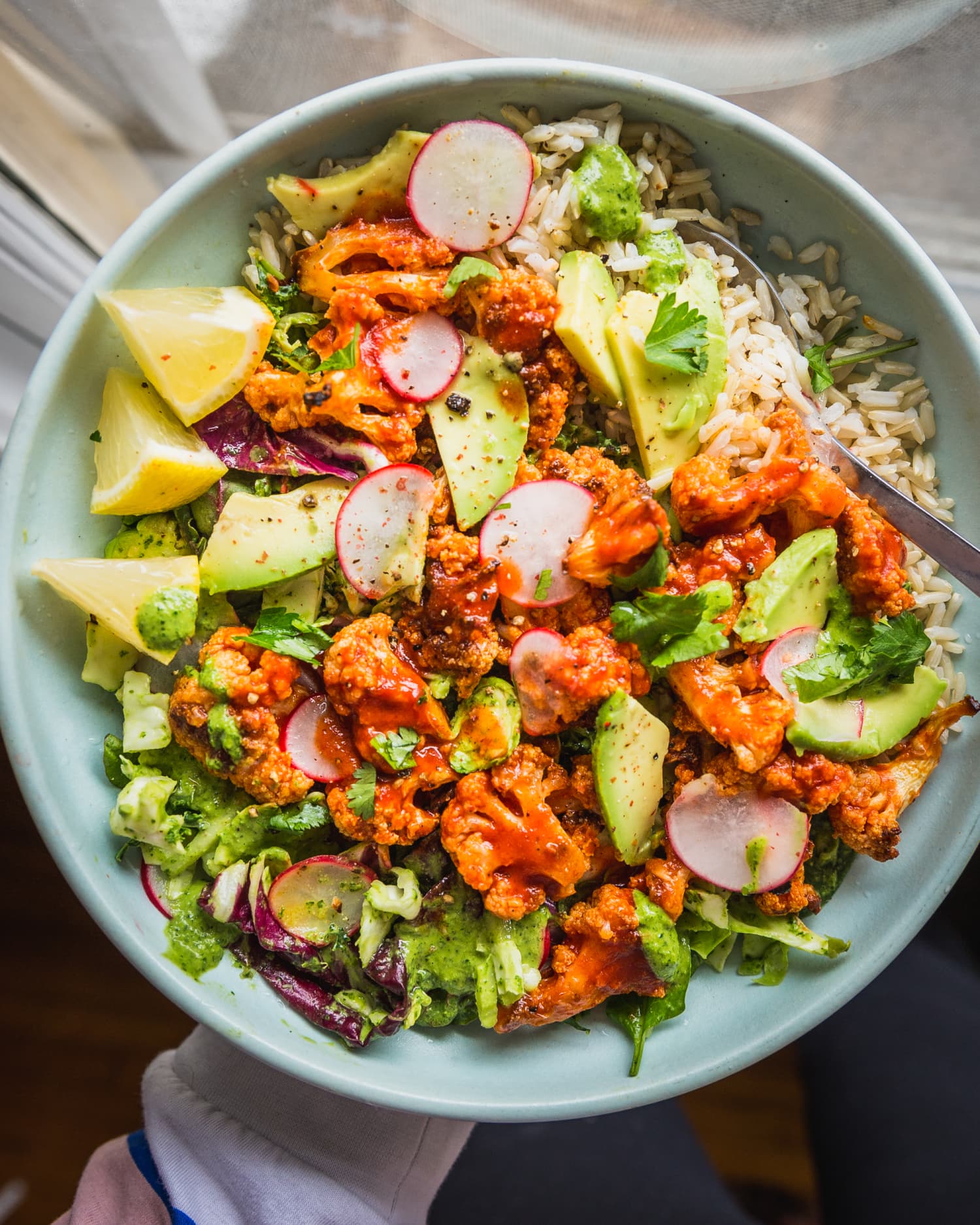 Whether you eat plant-based full-time or want to go meat-free once a week, Tonight We Veg will bring you the feel-good vegetarian meals you crave. Twice a month, in addition to our existing lineup of great veggie recipes, we'll share easy weeknight recipes that prove how diverse produce-forward food can be, each packed with smart tips we've picked up over the years. Cook along with us, and share your creations using #tonightweveg.
I truly can't remember ever eating cauliflower as a kid — except, maybe, as part of a frozen vegetable medley we steamed in the microwave. But in recent years the unassuming veggie has experienced a resurgence, if you will. There are now so many ways to prepare it that half the time, you probably don't even realize you're eating it.
I like it mashed, and riced, and crisped into a pizza crust. But I actually enjoy cauliflower the most when it's not masquerading as something else. Here, super-crispy florets get tossed in hot sauce for a bite-sized bowl topper that's utterly crave-worthy.
How to Make Best, Crispiest Buffalo Cauliflower Bites
The first time I made Buffalo cauliflower bites, I discovered that most recipes are designed to mimic restaurant-style Buffalo chicken wings — the florets are dredged in egg, dipped in flour or panko, then baked or fried. Not only was this a lot of extra (very messy) work, but it also gave way to gummy cauliflower that was a far cry from the crispy bites I was going for.
But this version is so much easier: Just cut a head of cauliflower into bite-sized florets, drizzle with olive oil and seasoning, and roast at 475°F for about 15 minutes. Then remove, toss with hot sauce, and return to the oven until hot and crispy. This technique — roasting the florets first and then tossing with sauce — prevents sogginess, and is the best way to get crispy cauliflower no matter how you're flavoring it. Pile into tacos, dip into ranch, or serve as part of this (vegan!) grain bowl.
When it comes to the hot sauce, I typically use Frank's RedHot. But I've also discovered that harissa sauce is equally as delicious and often slightly less spicy. I like the Mina brand because it's more of a sauce than a paste, making it easy to toss with the cauliflower. (They also make a mild harissa if you prefer less spicy food.)
Upgrade Tahini Sauce with a Handful of Fresh Herbs
To complement the crispy, spicy cauliflower, I packed this bowl with cooling avocado and a creamy tahini dressing. Anytime I'm using tahini, I typically add a little olive oil, lemon juice, and warm water to make it thin enough to drizzle. Just one extra addition — a generous handful of herbs — gives it a gorgeous green hue and a boost of fresh flavor. Here, you'll toss the sauce with store-bought slaw and drizzle it over top of the cauliflower, but if you make a double batch, enjoy it with falafel, as a dipping sauce for summer rolls, or to dress any number of salads.