Here Are 10 Essential Potato-Cooking Methods All in One Place
13 sierpnia 2019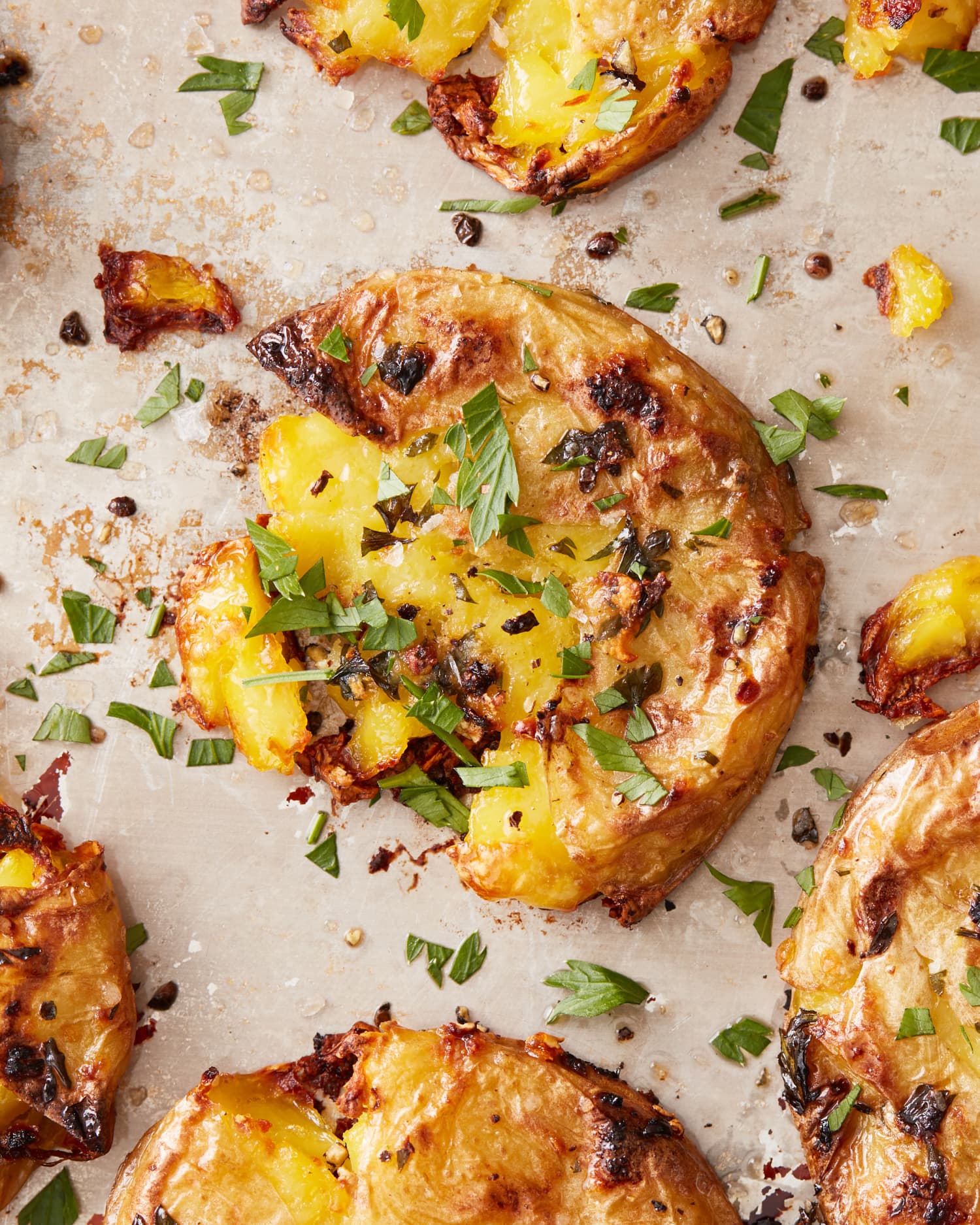 The potato is a true workhorse food. It shows up everywhere from humble breakfast plates to casual picnic lunches to fancy steak houses (where it sits right next to the main attraction). Chances are good you've got potatoes in your pantry (not — gasp — the fridge!) right now, so here are 10 of the most essential ways to cook potatoes. Master these, and you'll never worry about what to do with a spud again.
1. Garlic Butter Smashed Potatoes
These potatoes are boiled, cooled, smashed, and then crisped in gorgeous garlic butter in the oven. Although classic, they're anything but boring.
Baked potatoes taste surprisingly decadent for as simple as they are to prepare. Part of that has to do with how many ways they can be dressed up. You can top a baked potato with nearly anything — or you can serve it with nothing but butter, salt, and pepper. Either way it will be delicious. This method for baking them in the oven gets them perfectly crisp, but if you're looking for something faster or easier, try the slow cooker or microwave methods.
Got leftover baked potatoes? Don't worry: Bake them again! The filling for these spuds is cheddar cheese, butter, sour cream, and lots of green onions!
What would picnics be without potato salad? A lot less picnic-y, that's what. But this dish is too good to stop there. Put it on the dinner table, and pack it in lunch boxes! It holds up well and is very filling. Worried about the mayo? Give classic german potato salad, with its vinegar-mustard dressing, a spin instead.
5. Perfect Mashed Potatoes 
Mashed potatoes are pretty much a perfect food, no matter how you make them. And while you shouldn't sleep on slow cooker mashed potatoes or making them with garlic butter as a bed for weeknight meatballs and more, this recipe is really the most essential.
6. Cheesy Whipped Potatoes (Pommes Aligot)
This upgrade to basic mashed potatoes requires some different tools (a food mill or potato ricer) and takes a little more effort. But if you're hosting guests that you want to impress, or just want to be fancy for an evening, let me convince you: This version is ridiculously luxe!
7. Diner-Style Home Fries
We all need a good home fry recipe in our lives, to make that Saturday morning breakfast just right. While the hands-off sheet pan version may save you a little effort, this classic stovetop method gets them just right. It's also great when you want to make breakfast for dinner.
8. Diner-Style Hash Browns
Another glorious potato-based breakfast staple, these hash browns are shredded and pan-fried to perfection.
9. Classic Latkes (Fried Potato Cakes)
Latkes are a celebration of potatoes. When made just right, their interior is creamy and tender, the outside crisp and golden. Don't forget the sour cream and apple sauce!
10. Slow Cooker Potato Soup
Potato soup is one of those recipes I seem to forget about and then periodically rediscover and eat on repeat for weeks in a row. One of best things about it is how well the leftovers keep and reheat. This classic version is made in the slow cooker, which makes it both easier and also creamier, as the starchy potatoes have time to really fully cook through.
We independently select these products—if you buy from one of our links, we may earn a commission.