How To Make the Absolute Easiest Banana Muffins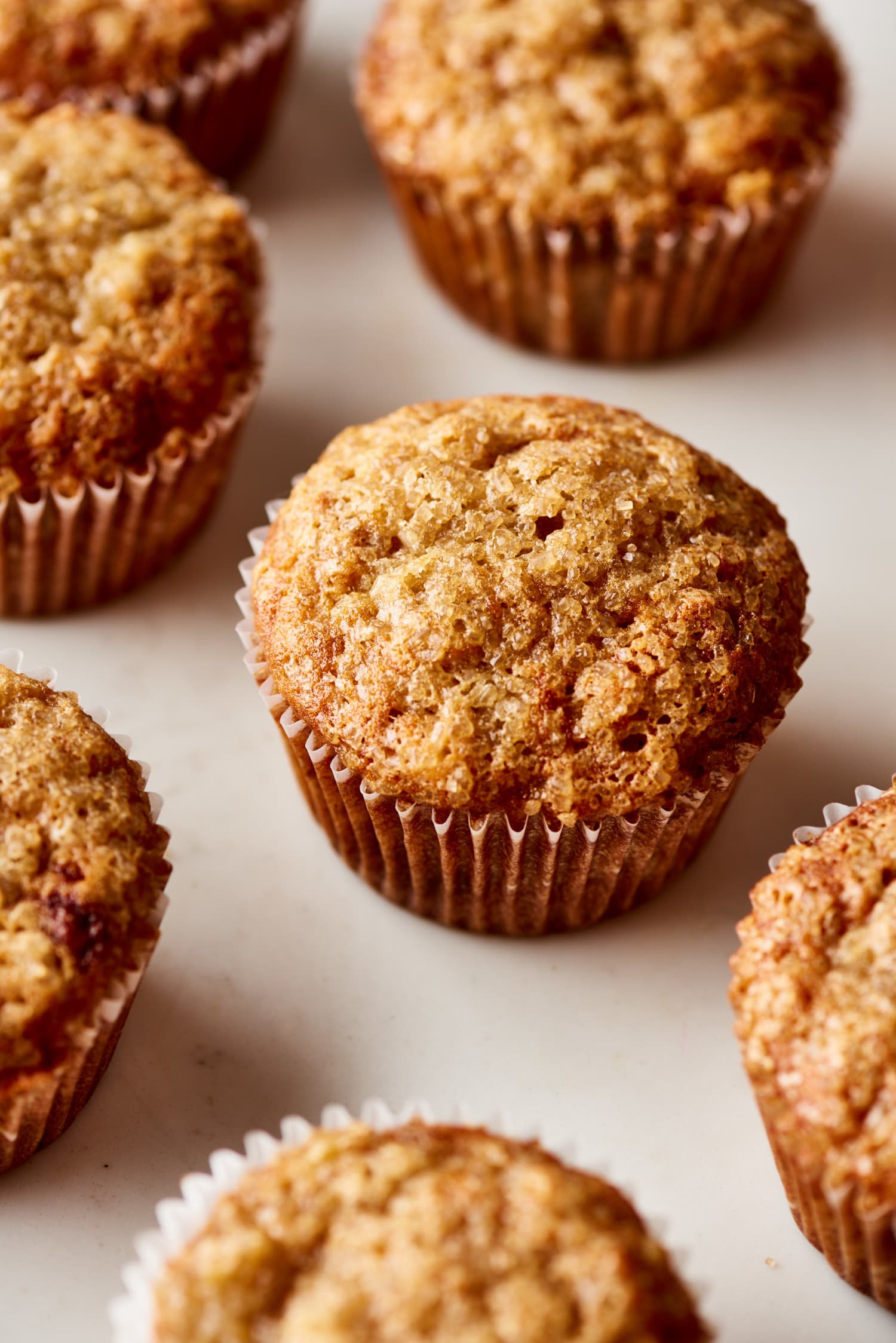 When your tidy bunch of bright-yellow bananas morphs into aggressively speckled and aromatic fruit, there's only one course of action: Bake them into breakfast.
You could bake a loaf of banana bread, of course, but we're partial to these muffins, which come together quickly and are perfect for grabbing on the go. Plus, you (probably) already have everything you need to make them, and they're sure to be a hit with the entire family. Here's how to make the absolute easiest banana muffins — no mixer or fancy ingredients required.
The Magic That Turns Bananas Brown
Bananas are climacteric fruits, which means they don't have to ripen on the plant. In fact, they're often picked when the peels are green and the flesh is firm, starchy, and unripe to minimize the bumps and bruises that come with shipping from farm to grocery store. Then, to ripen, bananas are exposed to ethylene gas (either naturally or artificially), which changes their starches to sugars, softens the fruity flesh, and gradually turns the peel from green, to yellow, to freckled, to brown.
The day (or two!) after the green vanishes from the banana but before the first freckles appear is the only time I'll eat a banana off the bunch. After that, it's a waiting game until I can make muffins. When the yellow peel begins to darken and sugar spots appear, it's time to get the muffin pan out. You'll need four ripe bananas for these easy muffins, but if you have more brown bananas left over, I recommend making banana pudding, a smoothie, or banana ice cream.
The Easiest-Ever Banana Muffins
I'm of the mindset that the simplest way is often the right way, at least when it comes to banana muffins (despite what some recipes may claim). And it doesn't get easier than this one-bowl, no-mixer-required recipe filled with pantry ingredients you probably have on hand. To start, mash the ripe bananas in a large mixing bowl. A fork is the obvious tool for this task, but the bottom of a whisk, a potato masher, or even your hands (ahem, or your kids' clean hands) will do the job.
Canola oil — not butter — is my go-to for banana muffins for a number of reasons. Butter is composed of fat, milk solids, and water. So it can weigh down muffins and strengthen gluten (which could lead to dense and chewy muffins … not what we're going for here), while oil gives the muffins a light, moist texture. Oil also incorporates seamlessly into the batter in a single pour, saving you the extra steps of melting or creaming butter into the batter. Lastly, oil's neutral flavor lets the sweet, floral banana flavor shine through.
Mix the oil, eggs, brown sugar, and vanilla with the mashed banana, then add the flour, baking soda, and salt. Stir the ingredients until just combined, and that's it! Need a little something extra in your muffin? Add 1/2 cup chopped nuts or chocolate chips, a splash of bourbon (thanks for the tip, Deb!), or a sprinkling of spice. Scoop into muffin tins, top with sparkly turbinado sugar if you like a crunchy cap, and bake until golden.
Otagowano:
Baked Good
Breakfast
brunch
Children
Easy
Freezer Friendly
Fruit
How To
Make Ahead
Recipe
Snack
Vegetarian