Meal Prep Plan: How I Prep a Week of Meals for One in Just Over an Hour
6 czerwca 2019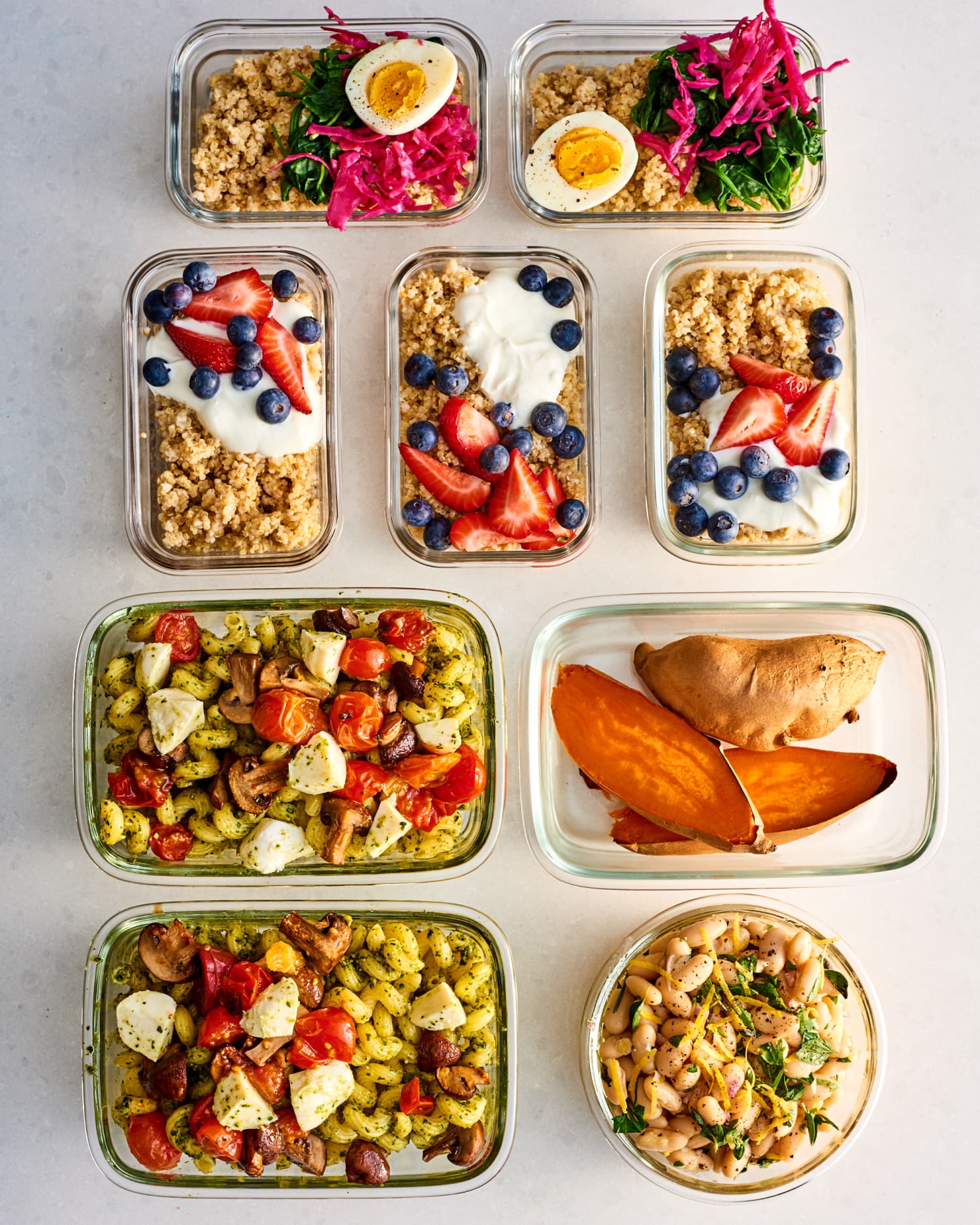 Before meeting my husband, I spent a number of years as a solo cook. Even now, on weeks when he's traveling or has other plans, I plan, prep, and cook for just myself. I'm a firm believer that planning and meal prepping for one brings value to your week, and is absolutely worthwhile.
This Power Hour is focused on quick and easy prep that will leave you with minimal cooking to do on weeknights (think: 15 minutes max). The staples you prepare can be repurposed throughout the week into distinctly different meals so that you're not left eating the same thing all week long. Ready to see how it's done?
Below are the ingredients I bought or used for this meal prep plan. I also relied on staples already in my pantry, like olive oil and dried spices.
Power Hour: How I Get the Prep Done
Each morning for breakfast I start with my grain bowl base of quinoa and steel-cut oats, and to change things up a little bit I alternate between topping it with Greek yogurt and fresh berries or a hard-boiled egg and sautéed greens.
Monday, Greens with Marinated White Beans & Hard-Boiled Egg: Since lunch was made a day in advance, there's just enough time for the marinated white beans to soften the baby spinach without making it totally wilted.
Tuesday and Thursday, Pesto Pasta Salad: I use about half of the roasted tomatoes and mushrooms for a simple chilled pasta salad mixed with pesto and bite-sized mozzarella pearls.
Wednesday and Friday, Lemony Chicken and Rice Soup: Boxed broth, a poached and shredded chicken breast, a container of white rice from a takeout shop, and lemon are all I need to bring a quick soup together for lunch. I make it in advance, so all that's left to do is reheat it in the microwave when it's time to eat.
Tuesday, Stuffed Sweet Potato with Marinated Beans and Sautéed Greens: I reheat the cooked sweet potato and spinach, then slice open the potato, fluff the inside and stuff it with the greens and beans.
Thursday, Marinated White Beans on Toast with Fried Egg: I toast a couple of slices of sourdough, top it with the remaining marinated beans, and a couple of fried eggs.
Power Hour Meal Prep is the series where we help you put it all together. We show you how to eat well during the week with an hour or two of Power Hour prep over the weekend. Every plan is different; mix and match to find your own personal sweet spot.