Miso-Butter Mushrooms Upgrade Everything They Touch (Starting with This Broth Bowl)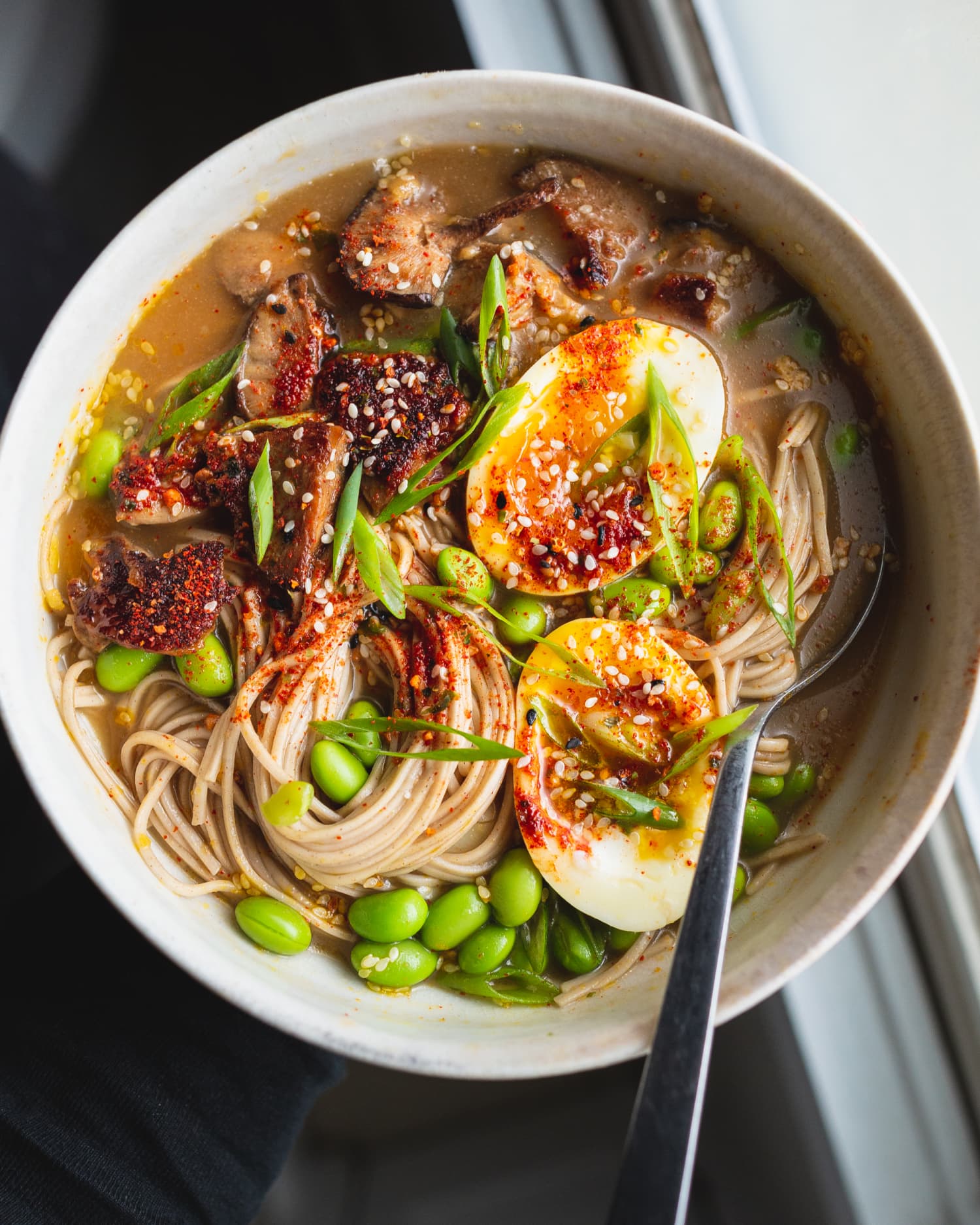 Whether you eat plant-based full-time or want to go meat-free once a week, Tonight We Veg will bring you the feel-good vegetarian meals you crave. Twice a month, in addition to our existing lineup of great veggie recipes, we'll share easy weeknight recipes that prove how diverse produce-forward food can be, each packed with smart tips we've picked up over the years. Cook along with us, and share your creations using #tonightweveg.
The tell-tale sign of a winning soup? If I refuse to push the bowl away until I've slurped up every last drop of broth. I don't go to such lengths for vegetable or minestrone. But I sure as heck won't let any bit of this creamy miso broth go to waste.
Broth bowls are entrée-style soups, often packed with noodles (and recently popularized by Panera), that take many different forms around the world (think: Vietnamese pho, or Japanese ramen. When I'm making one at home, I like to start with the same simple, savory broth — made by simmering sliced ginger and crushed garlic in store-bought broth, then stirring in miso right before serving — then pack the bowls with different noodles, veggies, proteins, and garnishes. This one's my favorite because it features miso-butter mushrooms. And once those are in the running, they'll beat out any other mix-in every single time.
Miso-Butter Mushrooms Are the Versatile Vegetarian Flavor-Booster You Need
These mushrooms are the best thing to come out of my kitchen this year. Sure, I love them in this broth bowl, but they're also great on ricotta toast, stirred into pasta, or spooned into a sweet potato. Torn shiitake caps (no need to get fussy with slicing) are seared in sizzling butter on the stovetop, tossed with miso and tamari, then cooked a few minutes longer until tender, browned, and rich with flavor. I know you'll love them.
Other than the mushrooms, everything cooks directly in the broth. Instead of boiling an extra pot of water, you'll cook the eggs in the broth, then the soba noodles and edamame. The starch from the noodles thickens the broth slightly and gives it a deliciously creamy quality.
Otagowano:
Asian
Dinner
eggs
Frozen Foods
Japanese
Main Dish
Noodles&Pasta
Quick
Quick Weeknight Meals
Recipes from The Kitchn
Recipes Vertical
soup
Vegetarian