The 3 Things I Bought to Improve Mealtimes with My New Pup
23 kwietnia 2019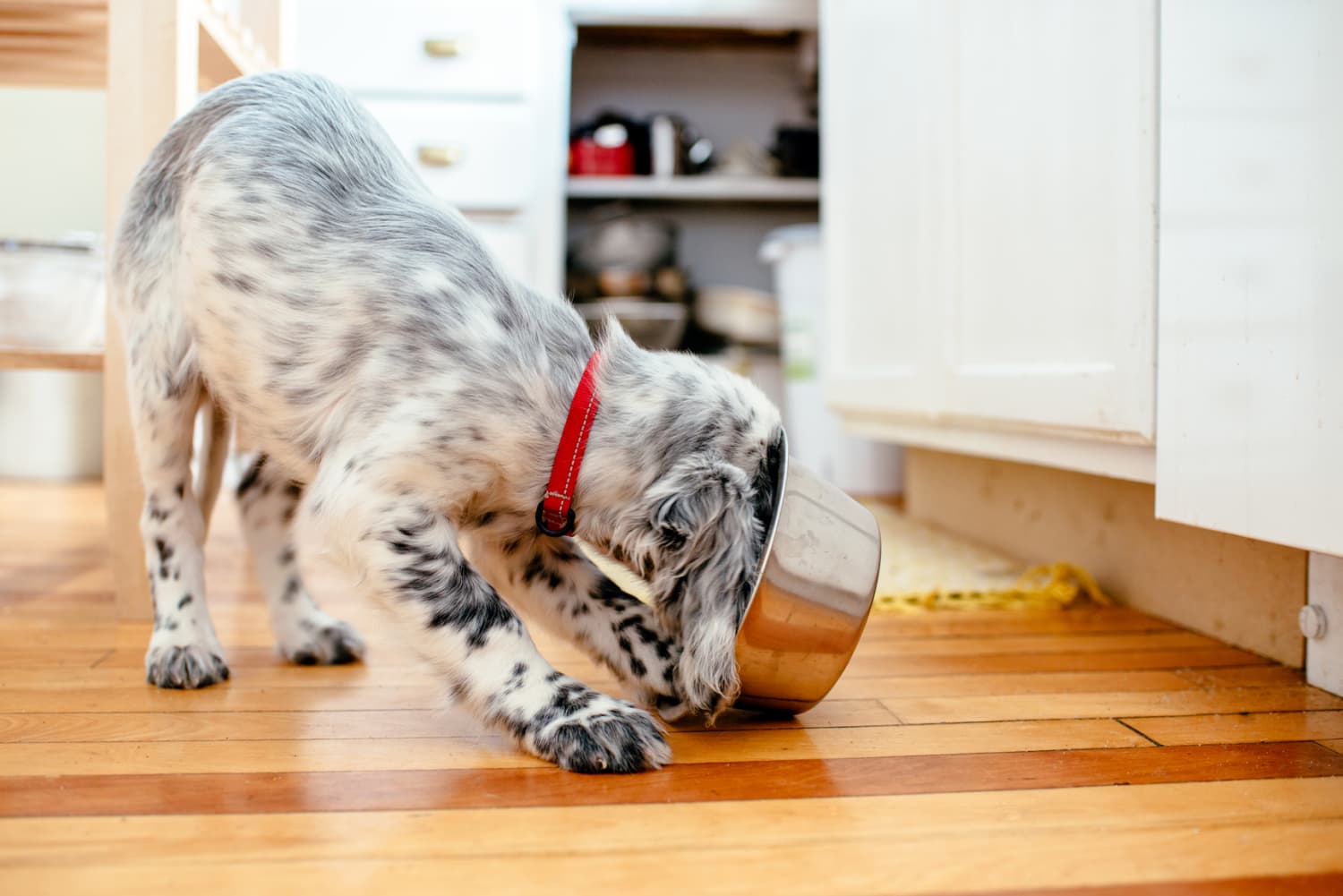 After begging my husband for nearly 10 years, he finally agreed it was time we get a dog. Those four little words — "Let's get a dog" — made me happier than "Will you marry me?" See, I knew we were going to get married; I didn't know he'd EVER come around to getting a dog. (He's not a monster, just a realist who worried about our busy schedules.)
I already had a collection of adoptable pups in my inbox because I had signed up for Petfinder alerts months ago … you know, just in case. I also had a private Pinterest board of all the cute and silly pet stuff I couldn't wait to buy. Doodles, Snacks, or whatever we ended up naming our pup (my husband nixed both of these ideas instantly. Maybe he IS a monster?) was going to have food-themed toys, a brightly colored collar, and the coziest bed of all time.
I'll spare you the long story of how we found her and just tell you this: Her name is Millie (we settled on a name outside of the potato chip aisle!), she's a rescue from Puerto Rico, and she's an angel puppy. She's also a slow and messy eater.
What's that? You want to see a photo of her? OKAY! I wish this post could just be a million photos of Millie because, as you can see, she is adorable. But we're here to talk about mealtime and the three things I bought to keep her well-fed and hydrated.
As you might already know, we had a bit of a mouse problem (it was one mouse) right before we got Millie. The situation was handled and we haven't seen any evidence of rodents since then, but I didn't want to take any chances. The idea of bringing a giant bag of dog food (or even a small one) into the house seemed like we were just inviting the little guys back inside.
I decided I wanted some sort of airtight container. And while there are certainly some less expensive options out there, I liked that this one matched my trash can and that it had a magnetic scooper that gets stored in the lid. Because I'm super paranoid, I haven't dumped the bag of kibble into the lining. Instead, I've just put the whole bag in there and then, next to it, I've stuffed in her pouches of treats. I don't want to tempt the mice at all.
I'm very happy with how this is working out and Millie seems to like it, too. She's learned to recognize the sound of the lid unlatching and comes running whenever she hears it.
I first found these stainless steel and concrete bowls on Wayfair and fell for them right away. Hard. I love all things concrete and I was set on getting a stainless steel bowls because of what I learned in this post. So I liked that the exterior part was concrete and more substantial (meaning, it would stay in place while Millie ate!) and that the stainless steel bowls could be removed for cleaning. The only problem is that they're sold out. I've been checking on a weekly basis since January and they're still not back — in fact, the restock date keeps getting pushed back!
So, I got two of these — to at least use in the meantime. I like that they're stainless steel and that they have rubber grippers to keep the bowls in place. And they can go in the dishwasher.
You know that saying, "You can lead a horse to water, but you can't make it drink"? That's definitely true for Millie. I worry she doesn't drink enough, and because we spend a lot of time with her in the car, I thought this would be a good idea. She absolutely loves it, too. I pop it open, pour in some bottled water, and she almost instantly takes giant slurps from it whenever I offer it to her. So I guess you can make a Millie drink — if it's from this collapsible cup?
Were there any things you bought for your new pup to help make meal times better? Share your finds in the comments below!
We independently select these products—if you buy from one of our links, we may earn a commission.