The Best Frozen Treats to Get at the Grocery Store, According to a Nutritionist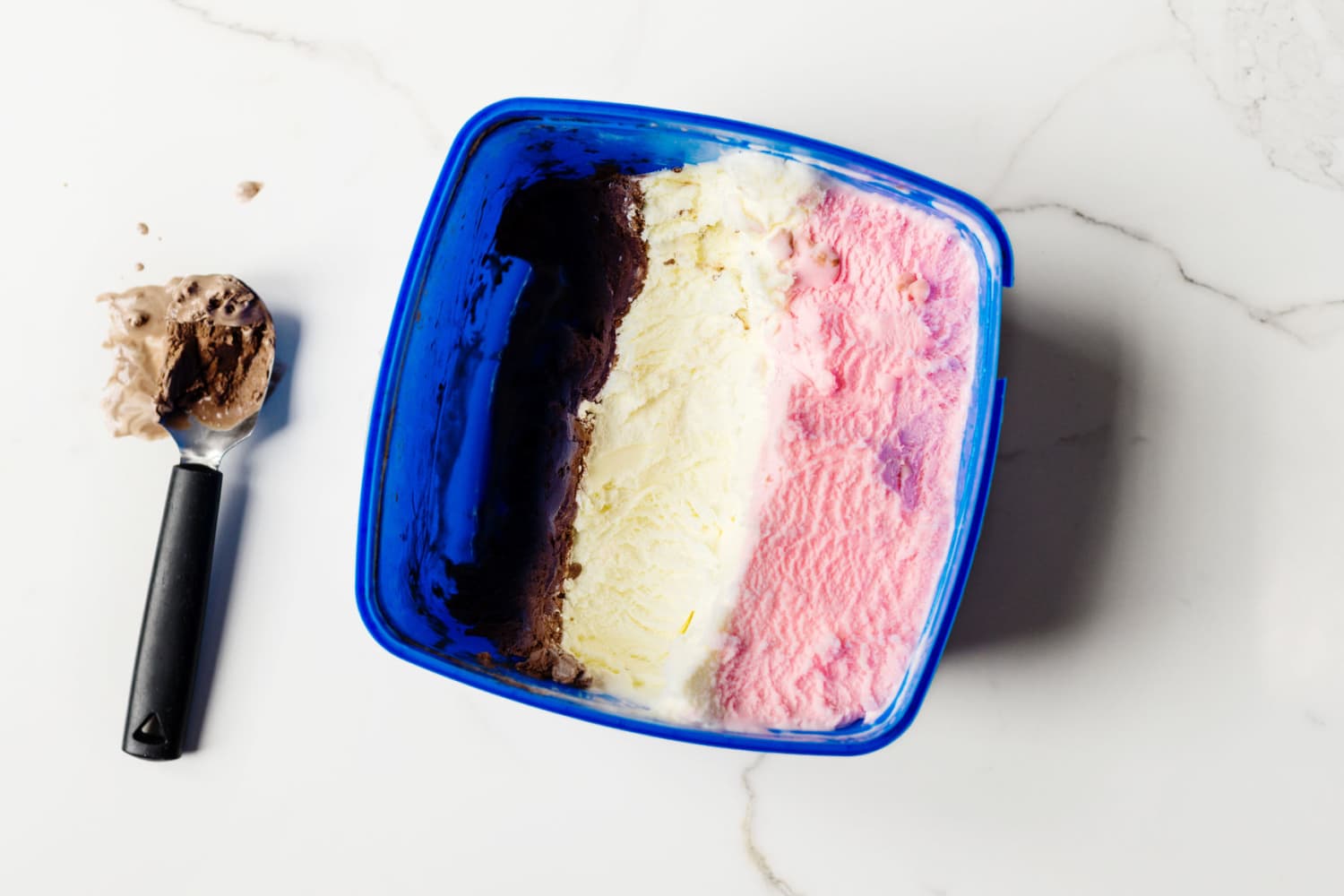 Frozen treats have always been my first love when it comes to the dessert department. Cold, creamy, and sweet — what's not to love? However, once I started eating more healthfully and became interested in nutrition, I realized it was time to seek out better-for-me frozen treats to replace various ice cream pints. It will probably not surprise you to learn that this took some serious trial and error!
Some things taste too diet-y, or claim to be "healthy" but actually pack way too much sugar. So here are 10 frozen treats that get my seal of approval for taste and ingredients.
1. Outshine Non-Dairy Pints, $4 per pint
These delicious all-fruit treats by Outshine are truly a dream. Even hardcore ice cream-lovers have given them rave reviews! Made with frozen bananas, real fruit juice, and a little unrefined sweetener, these non-dairy pints are sweet, creamy, and higher in fiber than dairy-based ice cream. They're only 80 calories per half cup, and I appreciate that they aren't made with artificial ingredients (they're also non-GMO). I'm a huge fan of the strawberry banana and berry blend flavors.
I'm one of those people who will always go for the vanilla bean or mint chocolate chip — no matter how many flavors I'm presented with. And those two flavors in this no-sugar-added line do not disappoint. Made with a base of organic coconut milk and coconut cream, they're smooth and, well, creamy. And because they have natural sugar alternatives instead of artificial ingredients, they're perfect for people like myself who watch their intake of added sugars.
Dole is one of my favorite brands for healthy frozen goodies, whether I'm buying fruit or frozen desserts. And these new smoothie blends are truly a treat. Each bag contains five packs, which help with portion control and let you blend your own non-dairy "ice cream" in just under a minute (toss the contents into the blender with a splash of non-dairy milk or a dollop of non-dairy yogurt). I love the Banana Mango Berry blend, which has a tropical vibe that's perfect for summer.
I have made my own frozen yogurt for years, but these bars by Yasso are a great option when I'm unprepared or want something store-bought. They have no artificial sweeteners and are made with nonfat Greek yogurt. I love the vanilla bean, chocolate fudge, and mint chocolate chip flavors; they're smooth and creamy!
I spotted these at Costco last year and instantly became obsessed. These bars/bites are coated in real dark chocolate, contain just 3 grams of sugar, and feature one of my favorite fruits, the acai berry! I have only seen these bars at Costco, but check your favorite health food stores to see if they carry them there.
If you're craving ice cream, Halo Top is a good alternative that's a little better for you. I particularly like their non-dairy line — especially the Mint Fudge Cookie, Oatmeal Cookie, and Toasted Coconut flavors — that's made with a base of coconut milk and contains no artificial sweeteners or high amounts of added sugar.
I spotted these new bowls at my local Publix and instantly picked some up to give them a try. I'm a huge fan of Dole's smoothie bowls (not pictured), so I figured they were worth a shot. They're a bit high in sugar for my taste, but they're super creamy and still better choices than most acai bowls sold in specialty shops (which are basically just sugar bombs). Try the original acai bowl if you get the chance!
Most people look at me funny when I say this, but sometimes a huge bowl of frozen berries is all I need. No really, here me out: Take a bowl of berries from the freezer, pour your choice of milk on top (I love vanilla soy milk), and let it sit for two minutes. Then dive in and enjoy a light treat that's hard to beat. Pick any frozen berry mix you enjoy; I love frozen strawberries, raspberries, and blueberries! (For what it's worth, you can also make milkshakes and frozen yogurt with frozen berries.)
If you're a purist and want a fruity treat without gimmicks, these frozen fruit snacks should be on your list. They have only 35 calories each and are truly made with 100% fruit — no sweeteners, juices, chemicals, nothing. I love the Strawberry Bliss and Raspberry flavors. I've been spotting these at Walmart, but check your favorite supermarket to see if they carry them there.
Have you tried any of these? What are your favorite frozen sweet treas you get at the grocery store?
We independently select these products—if you buy from one of our links, we may earn a commission.
Otagowano:
affiliate
dessert
Freezer Friendly
Frozen Foods
Groceries
Healthy Living