The Knife Set Our Gear Pro Uses at Home in Her Own Kitchen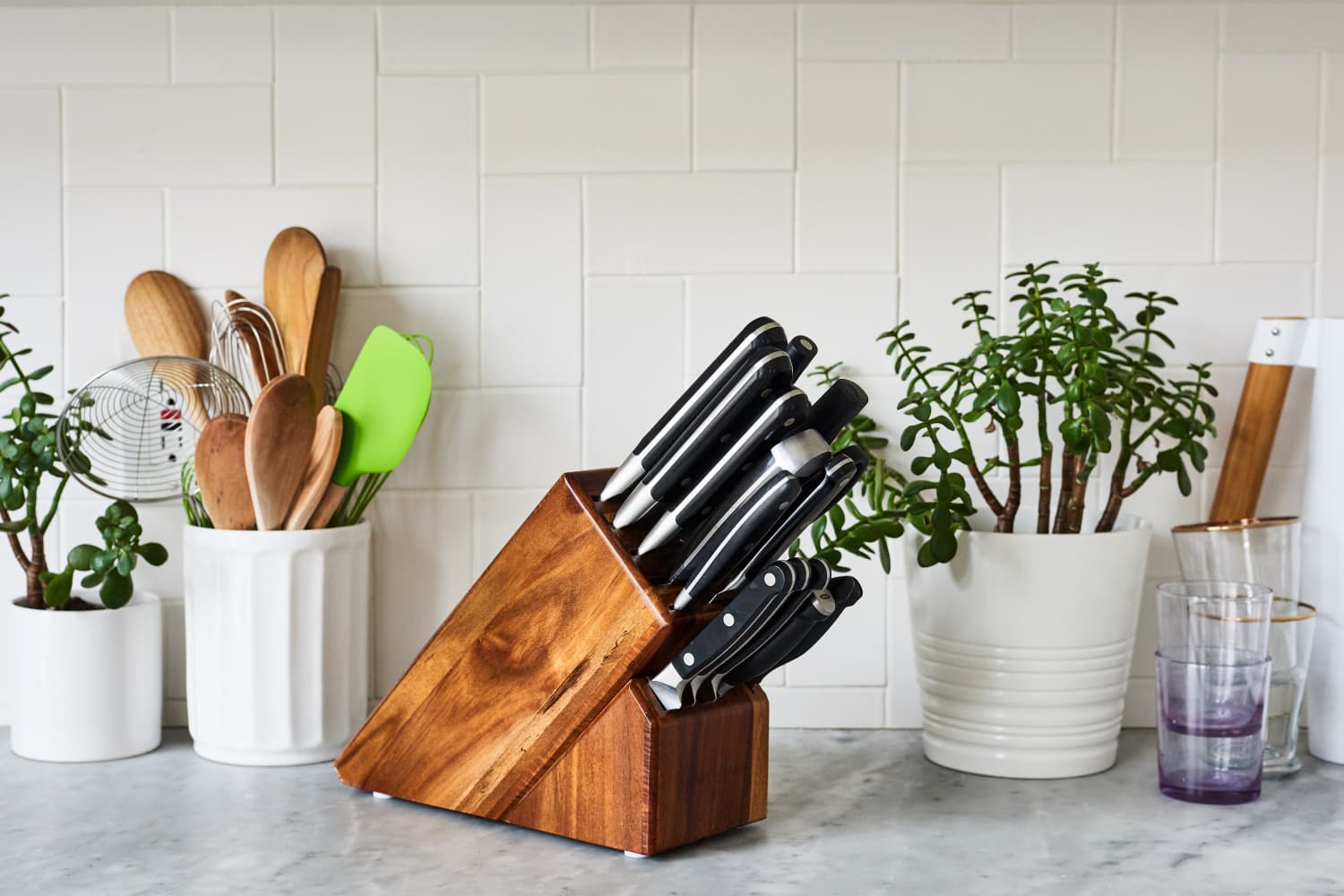 When people ask me (a professional kitchen gear expert!) to name the single most important kitchen tool that I can't live without, my answer is a no-brainer: a sharp chef's knife. With an emphasis on the sharp part. Too often, friends tell me they bought an expensive knife on my recommendation and that it's "no good" because it's no longer sharp. Well, you can buy the best, most expensive knife in the world and, if you don't put some time and energy into keeping it well-honed, it's eventually going to get dull. In fact, I'd rather see you buy an inexpensive serrated blade that will stay sharp a long time than a pricey tool that could lose its edge in a few months or sooner.
All of this is to explain why the Zwilling Four Star Self-Sharpening Knife Block Set has earned a spot on my countertop right now. Every time I take one of the knives from or place it into the block, it gets a quick honing so it stays sharp — eliminating the need to get out a sharpening tool. It's a completely passive way to make sure I can always cut tomatoes so thin that you can see through them or dice an onion without having to worry about the blade slipping.
The wooden block comes with a chef's, santoku, prep, and paring knives, as well as serrated bread and utility knives and a scissor for which there are no sharpening mechanisms in the slots. I love the little unobtrusive icons on the block that let you know which tool goes where (this is important because the sharpening gear in each slot is specific to a particular knife). Plus, I firmly believe that this collection checks all the boxes for what you want in knives. They're forged of high carbon stainless steel and have solidly attached handles. In your hand, they feel balanced, which is particularly important for the chef's knife.
Now, I know this set is pricey and although it includes a particularly useful assortment, you might not want (or have space for) an entire block set that sits on your counter. You can get away with just a few knives (a chef's knife, a paring knife, and a serrated knife) or even just a chef's knife, because it's so versatile. I've already written a piece on the five best chef's knives, but I'd like to call out my absolute favorite: the Wüsthof Classic 8-Inch Chef's Knife. In my hand, it just feels right. It's not too heavy to handle but not too light that it can't hack into a butternut squash. Because the blade is rounded, I can rock it back and forth when I'm mincing parsley or garlic.
Whether you're in the market for new knives or already have what you need in your kitchen, promise me that you'll keep them sharp. And the way to do that is not with one of those long rods known as a butcher's steel. (In order to benefit from them, you have to hold your knife at a precise angle and even if you do, they will not resharpen your knives, just give your edge a little longer life.) I strongly recommend the electric Chef'sChoice 15 Trizor XV EdgeSelect. If you want to spend less on a smaller tool, my second-best choice is the handheld Chef'sChoice ProntoPro.
Do you have a knife block at home? Which one is it and do you love it? Leave your thoughts in the comments below.
We independently select these products—if you buy from one of our links, we may earn a commission.
Otagowano:
affiliate
Knives&Cutlery
Shopping&Stores
Tools Vertical