This Ingenious Trick Will Give You the Best, Crispiest Gnocchi All Summer Long
9 maja 2019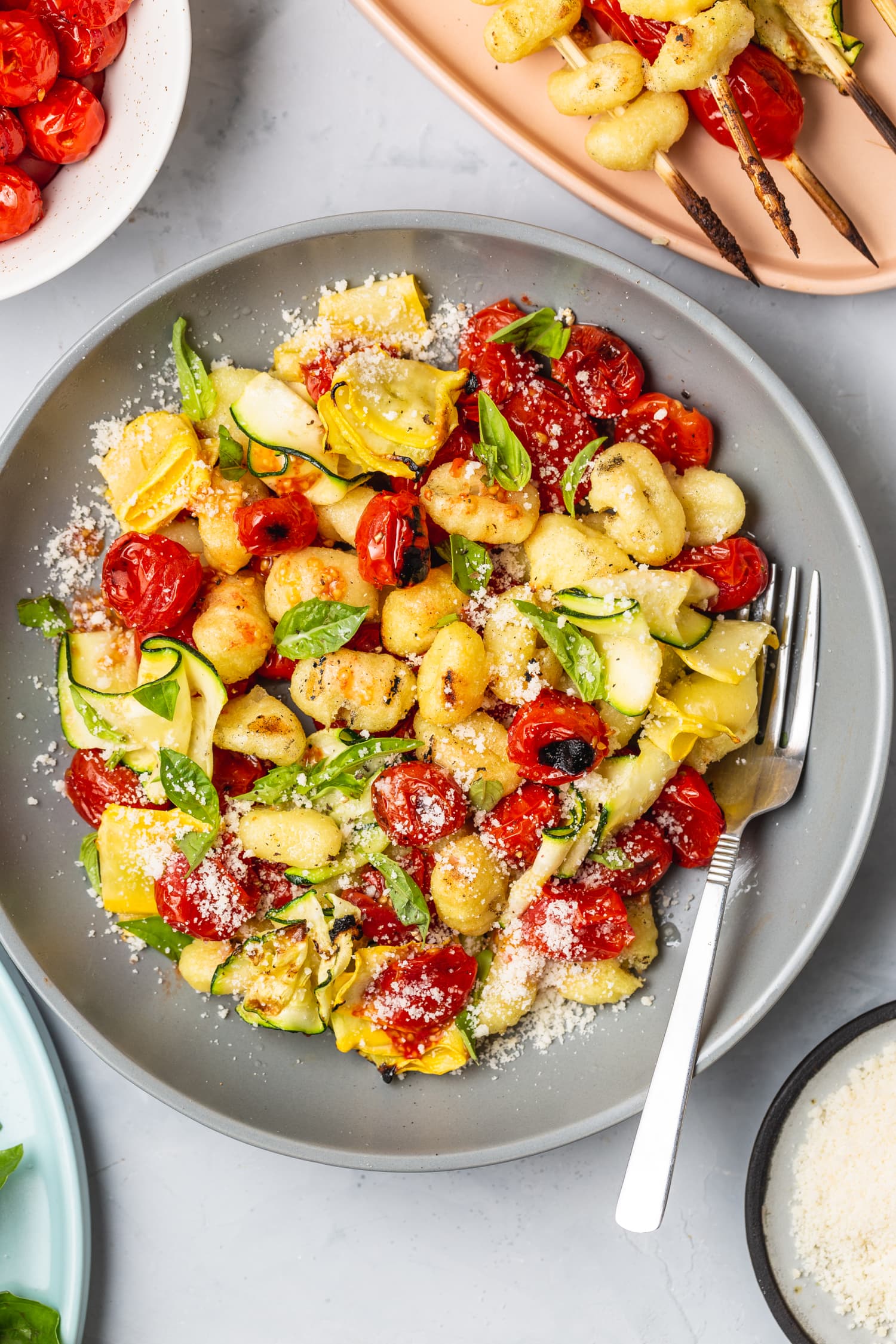 Whether you eat plant-based full-time or want to go meat-free once a week, Tonight We Veg will bring you the feel-good vegetarian meals you crave. Twice a month, in addition to our existing lineup of great veggie recipes, we'll share easy weeknight recipes that prove how diverse produce-forward food can be, each packed with smart tips we've picked up over the years. Cook along with us, and share your creations using #tonightweveg.
I love the way pasta transforms with the seasons. The base of noodles stays the same throughout the year, but you get to dress it up with whatever's at the market. In the fall and winter months, I like filling my pasta bowl with creamy winter squash, or tossing spaghetti with a stewy tempeh Bolognese. In the spring, it's all about garlicky, lightly-buttered noodles topped with asparagus and fresh peas. And in the heat of the summer, I really don't want a sauce at all: just give me fresh, bursting tomatoes that coat the noodles with their sweet juices.
In this recipe, both the ingredients and the technique speak to the season, because everything — including the gnocchi — is cooked on the grill. That means you can stay outside and eat it al fresco, paired with a glass of rosé and a pretty summer sunset.
The Best (and Easiest!) Way to Cook Gnocchi in the Summer
One of the smartest recipes we've ever shared on Kitchn is this Crispy Sheet Pan Gnocchi and Veggies. It introduces a faster, easier way to cook the plump potato dumplings (roast 'em instead of boiling!) — and it genuinely results in better-tasting gnocchi.
Inspired by this technique, I tossed refrigerated gnocchi in olive oil, threaded them onto skewers, and placed them on the hot grill. To my delight, it worked like a charm: they crisped up on the outside and remained chewy and tender on the inside, and are simply perfect paired with juicy grilled tomatoes and strands of summer squash.
Before you start: Not all gnocchi is suitable for the grill. Frozen gnocchi, even once thawed, will crumble if you try to thread it onto skewers. And shelf-stable gnocchi isn't pliable enough. For that reason, the only gnocchi suitable for grilling is refrigerated gnocchi. If you're having trouble skewering them (or would prefer to use a different kind) you can still make this recipe; simply place the gnocchi in a grill basket.