You Guys, There's So Much Terrazzo Stuff on Sale Right Now!
7 maja 2019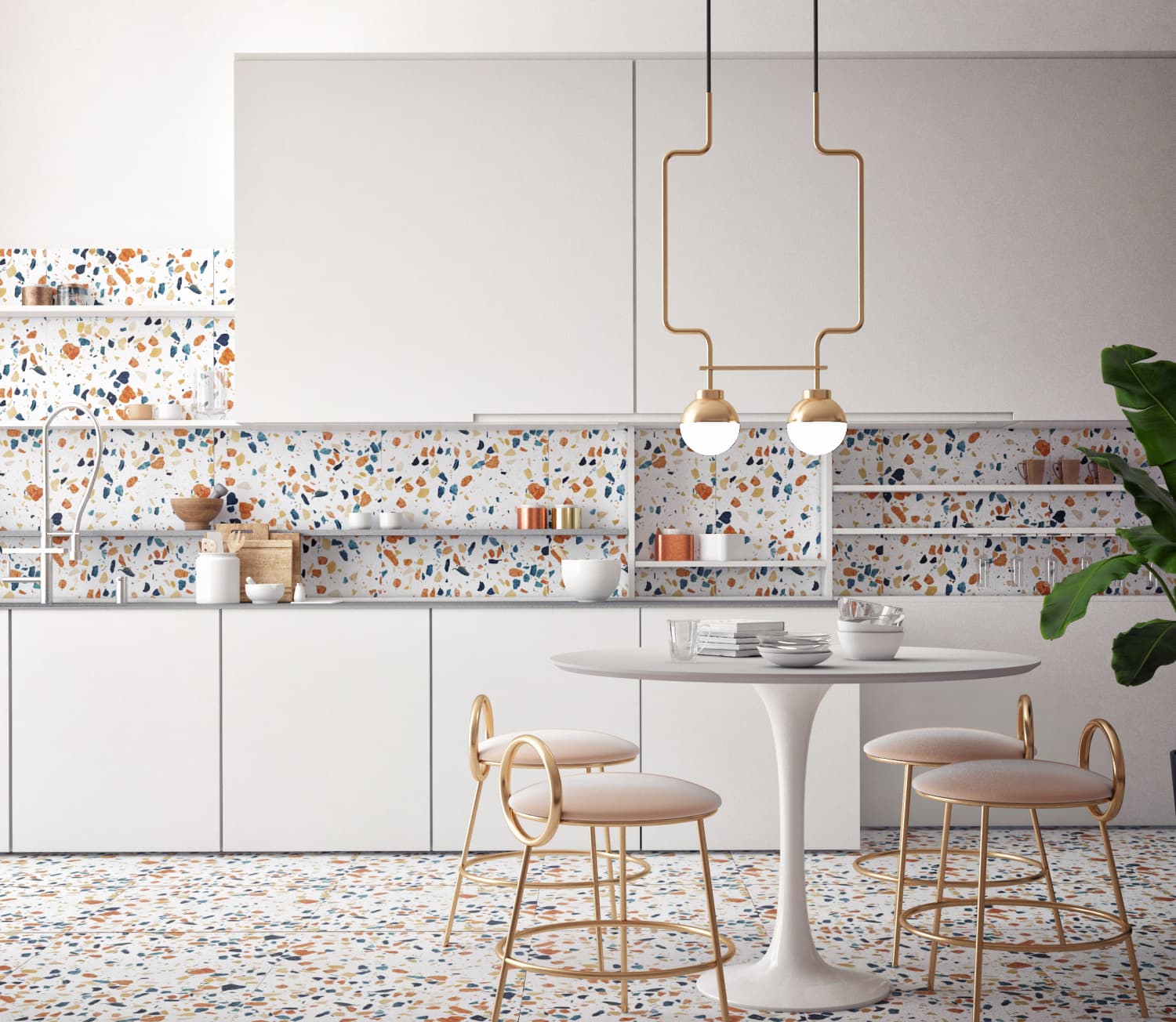 A lot of times when we see something trendy on sale all over the place, we worry that it means it's going out of style. You probably think the same thing! Well, we can confidently say that's NOT the case with terrazzo-inspired stuff.
If you're not familiar, terrazzo is a composite made of marble, quartz, granite, glass, and/or other materials that's poured with some kind of binder. The telltale sign you're looking at terrazzo is those chunky colorful chips. (You've definitely seen it before, even if you didn't realize it.) It was often used in schools and government buildings in the '70s — although it can be traced back to the mosaics of ancient Egypt — and now it's back and cooler than ever. We're seeing the actual stone used in restaurants, home kitchens, and home goods — and the general terrazzo style is being replicated on textiles and things that aren't even stone. To say it's popular would be like saying that Taylor Swift is popular.
So again, terrazzo is not going away any time soon. And while terrazzo tables or countertops are generally pretty expensive these days, all of these items are currently on sale!
The look of heavy stone in a lightweight paper plate! These would be cute for a baby shower or a graduation party.
This just might be the fanciest pour over stand we've ever seen. The gold! The glass! The terrazzo! Just note: You can order the item online, but it's only available for in-store pickup. Hurry before they sell out!
We love the larger-than-normal terrazzo print on these cloth napkins. They're funky and bold without being over-the-top.
Most terrazzo is usually predominantly white or cream, so we get excited whenever we see darker options. This little side table was made just for Urban Outfitters and would be a great perch to rest your coffee or snack while you scroll away on your phone.
Another table! Terrazzo tables can end up getting pretty pricey. And while $500 is still a lot of money to spend, this coffee table is now almost $200 less than its original price.
This markdown is only for a limited time. Scoop it up now and you can use that extra $6 to buy a plant to go in it.
Ideal for outdoor dining, bamboo fiber plates are lightweight and durable — and these are some of the cutest we've seen.
These place card holders will tell dinner guests where to sit and remind them that you've got your finger on the pulse of what's cool.
Obsessed with that kitchen at the top of this post? If a renovation isn't in the cards, maybe this 5×7-inch print is? Frame it yourself and prop it up on your counter against your backsplash for a similar (less expensive!) look.
What do you think of terrazzo? Which one of these items is your favorite?
We independently select these products—if you buy from one of our links, we may earn a commission.