Your Grill Is the Secret to the Best-Ever Summer Vegetable Soup
15 maja 2019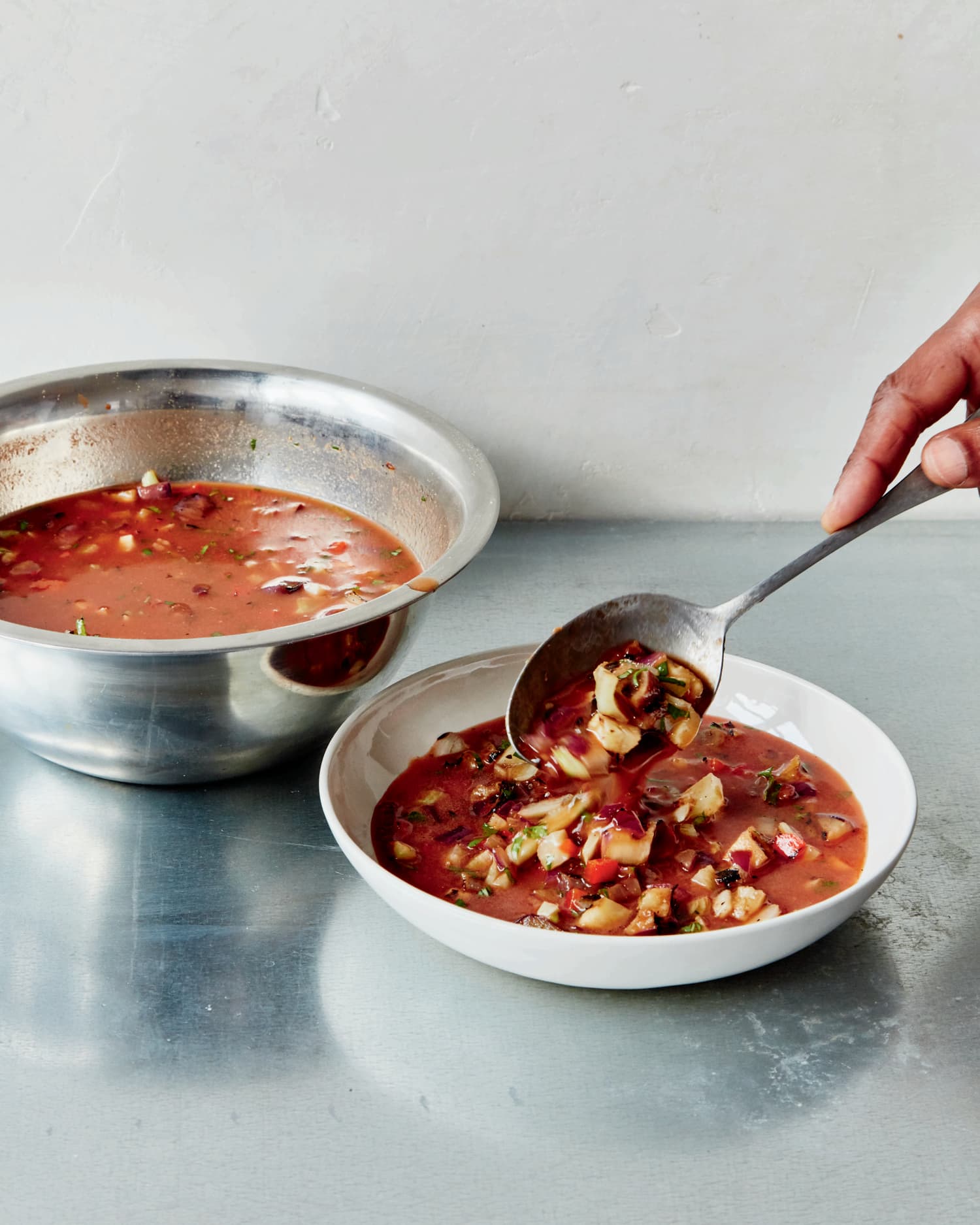 Question: When did everyone get together and decide that all chilled soups are to be puréed? Just what is this obsession with homogenous cold soups come summertime? While I'll admit I like the occasional gazpacho shooter, I think it's time we explored the chunky, brothy alternative.
Enter: this Mediterranean Grilled Vegetable Soup from The Complete Vegan Cookbook by the Natural Gourmet Center (formerly known as Natural Gourmet Institute). Chunks of smoky grilled vegetables swim in a light tomato broth for a satisfying new spin on a chilled summer soup. It's the perfect way to use up that summer CSA box.
Your Grill Is the Secret to the Best Summer Soup
You'll start by slicing the vegetables — fennel, eggplant, bell pepper, and onion — then marinating them quickly in oil, salt, and pepper to soften them a bit. The vegetables are then grilled, which you can do indoors or out, and then allowed to cool. (You can do this step a day in advance.) Grilling the vegetables gives the soup its slightly smoky and caramelized grill flavor.
After they're grilled, the vegetables are combined with tomato juice, vegetable broth, and a generous amount of acid in the form of lemon juice and red wine vinegar, both of which contribute to the soup's zingy, refreshing bite. The hearty soup — which is chilled for 30 minutes before serving, making it perfect for hot summer nights — can hold its own as a main dish, especially if served with grilled bread.
Intrigued by this recipe? Check out The Complete Vegan Cookbook, a collection of over 150 vegan recipes and techniques from Natural Gourmet Center's 40-plus-year history. It's packed with creative ways to use all types of vegetables (and other plant-based whole foods), and this soup is just one of them.
We independently select these products—if you buy from one of our links, we may earn a commission.